CURRENT:
September 17 – January 13, 2019
My installation Font (2016) is now on view at the exhibition La Reina de Los Angeles, curated by Debra Scacco.
La Reina de Los Angeles presents a discussion of our current relationship with water, using the Los Angeles River as an entry point. Through contemporary art works, documentary films, historic materials and special programming, La Reina explores the history, infrastructure and community around this critical resource.
Sturt Haaga Gallery
Descanso Gardens, La Cañada-Flintridge, California
October 27 – December 15, 2018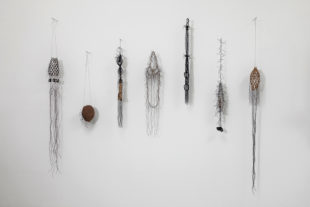 An installation of 13 new sculptures from the series Undescribed Variations (2018) is featured in the exhibition Holding Up 1/2 the Sky, organized by Jill Moniz.
Roberts Projects
Culver City, California