CURRENT: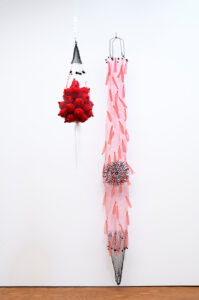 Each artist in the show features works that are created from multiple elements that are "assembled" to create a singular artwork. In some cases, the works are created from disparate elements collected by the artists creating a new singular art piece. In other works, the artists specifically created individual elements from scratch with the idea of combining them into a unique singular artwork.
In either case the artists use an additive process to create their work in which the found or created elements are combined to create a greater whole. The finished works function as a new singular artwork but are made from many individual parts that are still visible as singular elements to the viewer. A constructed artwork in which the process and material are still very evident.
Each of the elements within the assembled and collaged works interplay with one another creating an almost musical composition. Rhythms and patterns are played out not as musical notes but rather of as gestures of color, pattern and material.
Once combined these elements create a whole that is greater than the sum of its parts. – Carl Berg, Curator
https://cmaygallery.com/exhibitions
I am presenting an installation of four sculptures from my current body of work The Invisible Obvious. in the exhibition of rope and chain her bones are made at Craig Krull Gallery in Santa Monica through July 31st.
"Sappho, the ancient Greek poet, sought to "write words more naked than flesh, stronger than bone, more resilient than sinew, sensitive than nerve." Analogies between artistic inspiration and human form are equally embodied in the work of nine LA women in this exhibition. The evidence of their hand is revealed in the use of elemental materials, dichotomies of physical strength and fragility, as well as palpable manifestations of energy…There is a bodily relationship of artist to material, a corporeal coalescing of anatomy with the raw earthly matter of clay, fibers, and fire. It is an alloy of spirit and substance, as Shakespeare transmogrified; "of his bones are coral made, those are pearls that were his eyes." – Craig Krull Gallery
https://www.craigkrullgallery.com/Exhibition/Current.html
The artists from of rope and chain her bones are made participated in a panel discussion moderated by Craig Krull at the gallery on July 10th. Watch the talk:
https://www.facebook.com/watch/?v=351517859934821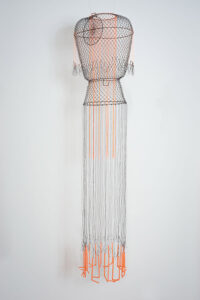 Seven works from the series Undescribed Variations and one from my current body of work, The Invisible Obvious, are included in the virtual exhibition Making Waves: Ocean Ecology and Craft, at the Craft in America Center in Los Angeles, through August 21st. In-person viewing may be possible this spring, COVID permitting.
"Making Waves focuses on artworks that celebrate and champion our oceans. These gathered objects shed light on the impact of climate change on the bodies of seawater across the planet, the hazards to life within them, and their vitality to our survival. Along with all that we have faced over the past year, the ongoing and surmounting climate crisis remains one of the largest existential and physical threats to life on Earth. From global warming and rising ocean levels to microplastics, carbon emissions, and overfishing, the issues are numerous and urgent. The group of artists featured in this exhibition use various craft media to reflect the richness of the natural world that exists underwater. They remind us about the need to protect these resources before we are left with nothing more than their artistic likenesses". – Craft in America Center
https://www.craftinamerica.org/exhibition/making-waves