CURRENT: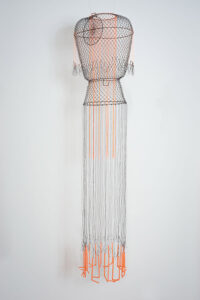 Seven works from the series Undescribed Variations and one from my current body of work, The Invisible Obvious, are included in the virtual exhibition Making Waves: Ocean Ecology and Craft, at the Craft in America Center in Los Angeles, through June 16th. In-person viewing may be possible this spring, COVID permitting.
"Making Waves focuses on artworks that celebrate and champion our oceans. These gathered objects shed light on the impact of climate change on the bodies of seawater across the planet, the hazards to life within them, and their vitality to our survival. Along with all that we have faced over the past year, the ongoing and surmounting climate crisis remains one of the largest existential and physical threats to life on Earth. From global warming and rising ocean levels to microplastics, carbon emissions, and overfishing, the issues are numerous and urgent. The group of artists featured in this exhibition use various craft media to reflect the richness of the natural world that exists underwater. They remind us about the need to protect these resources before we are left with nothing more than their artistic likenesses". – Craft in America Center
https://www.craftinamerica.org/exhibition/making-waves


UPCOMING:
I will be presenting an Artist Talk via Zoom as part of Making Waves as well as participating in other associated exhibition programming. Dates to be announced.